Uncontested Divorce
Obtain an Uncontested Divorce in Alberta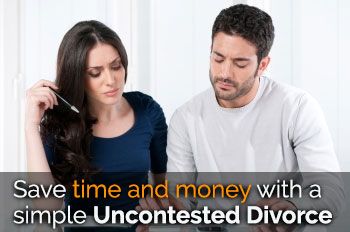 Please check out the Uncontested Divorce topics below or scroll through this web page for all of your answers.
How to Qualify for an Uncontested Divorce
We can help you with a low-cost Uncontested Divorce in Alberta if:
it is unlikely the Divorce will become contested;
you do not require or wish to seek legal advice (or have already received legal advice);
your file does not become technically complicated; and
you or your spouse meet the Alberta Divorce residency requirement, meaning either you or your spouse or both of you have lived in Alberta for 12 months immediately preceding the filing of a Statement of Claim for Divorce.
Definition of an Uncontested Divorce
An 'Uncontested Divorce' is a situation in which your spouse does not file a dispute to your Divorce application and provides his or her cooperation, if and as required. If your spouse does file a dispute but that dispute is later resolved, we may still be able to assist if you both cooperate in the finalization of the Divorce.
If your spouse avoids personal service, it is not practical to serve personally, or your spouse can not be located, this does not mean the Divorce is 'contested'. It just means we have to find an alternate way to serve your spouse. We are able to assist you with obtaining the necessary Order to substitutionally serve (ie. through Facebook, by email, registered mail, ordinary mail, through a friend or relative), serve outside Canada or dispense with service (meaning we don't have to serve).
Advantages of Hiring Us to Help You with Your Uncontested Divorce
our rates are much lower than rates charged by a lawyer;
we can assist both you and your spouse, if you prefer (as we don't give legal advice there is no conflict for both of you to work with us);
we prepare and file all of the documents (most online companies prepare forms for you, then expect you to do your own filing & serving);
we do not mark up our disbursements;
we do not charge extra for photocopying, phone calls or mail (unless you want documents couriered);
we have a service guarantee;
we keep you updated and informed so that you know your file is being handled quickly and professionally; and
though we do NOT give legal advice, we may be able to assist with minor disputes and communication issues.
Free Consultation
For your free consultation, please call us. We'd be happy to discuss your situation and help you save hundreds and possibly thousands of dollars by using our services.  We assist applicants throughout Alberta, as well as those residing outside Alberta or Canada who's spouse resides in Alberta (and who's spouse has resided in Alberta for the past 12 or more months).  You'll find us extremely knowledgeable, reliable and our customer service excellent.  We don't believe in telephone voice mail–you'll always get a live voice when you call during office hours.
Our Uncontested Divorce Service Guarantee
We guarantee that as long as your divorce remains uncontested, we will get you your divorce, or your money back no questions asked. As a result of combined 30+ years divorce experience, for so long as the divorce remains uncontested, our divorce team can handle all documentation with great confidence.  We pride ourselves in having a BELOW AVERAGE rejection rate, meaning our documentation is rarely rejected due to document errors.
Hours of Operation
Please call any time during office hours for your free consultation. In-office meetings are by appointment. We are open:
Monday to Friday 8 am to 5 pm
Saturday 9 am to 4 pm
Occasional evenings
Uncontested Divorce – Special Topics
For special interest topics, please visit: LINK: Uncontested Divorce – Special Topics. You will find topics such as:
What happens if I cannot personally serve my spouse?
What if I am afraid to serve my spouse?
Can I file under 'irreconcilable differences'?
When can I file for a divorce?
What is the date of separation?
Do I need proof of service?
What are the steps involved in getting an Uncontested Divorce?
What are the processing times?
Can I get an emergency divorce?
Books: for Children of Divorce
Video:  Save Your Marriage
Sample Travel Authorization for Children Travelling Abroad
Legal Separation Agreement
If there are property issues, your property is predominately located in Alberta and you require a Legal Separation Agreement or would like to learn more about Legal Separation Agreements, please click the button below:
Fee Schedule (effective March 20, 2014)
Uncontested Divorce (Alberta only)
No Children: $695 our fee + disbursements + GST
With Children: $895 our fee + disbursements + GST
NOTE:  if there is spousal support, add $100 to our fee.
Usual Disbursements, where applicable:
Marriage Certificate: $15 to $40 (if you do not have one for a marriage within Canada)
Personal Service: $0 to $150+ (if your spouse will not attend our office for service and you do not have a friend or relative that will assist, cost depends upon level of cooperation from your spouse and address of your spouse)
Court of Queen's Bench Filing Fee (GST exempt): $260
Additional Fees (plus GST) for Rush Divorce:
Waiver of the 31 day Appeal Period: $195
Rush Divorce (you appear before the Judge to have the Divorce granted): $495
Waiver of the 31 day Appeal Period and Rush Divorce is required: $695
Additional Fees (plus GST) for Variation:
Variation with consent: $495+ disb (you and your spouse want to vary an existing Divorce Judgment)
Variation without consent: $695 + disb (ie. service) (you want to propose a variation and your spouse will not consent)
Additional Fees (plus GST) for Special Circumstances:
Substitutional Service or Service Ex-Juris: $325 + disbursements (such as courier costs, process serving or advertising) if your spouse can not be served personally within Canada
Order Dispensing With Service: $325 (when it is impossible or dangerous to serve your spouse)
Severing Corollary Relief (children are in the care of a third party or in another country): $75
The Defendant's consent (or his/her lawyer's consent) is required on the Divorce Judgment (i.e. they file a Demand of Notice): $75
Grounds for Divorce are Mental Cruelty, Physical Cruelty or Adultery: $50
Exemption from the Parenting After Separation Seminar is required and both parties are willing to sign an Affidavit confirming they have reached an agreement regarding custody, access and child support: $45  NOTE: exemption may be free if parties qualify (such as if they have a Legal Separation Agreement, the children are 16 years of age or older, or if the parties live more than 150 km from the centre offering the seminar)
Pension Order consented to by both parties (appearance before Judge may be required): $425
Discontinuance ($50-consent of client only required, $75-consent of spouse required and spouse prepared to cooperate) + disb (such as Commissioning if you or your spouse are not able to attend our office to sign)
Notice to Disclose/Notice of Motion (your spouse refuses to disclose financial information): $75 (to file) + $250 (if your spouse refuses to respond to the Notice by providing financial information and we have to send you to Court to get an order imputing his income) + service if this document has to be served separate from the Statement of Claim for Divorce
Rejections due to procedural error (such as typing error or situation where Judge seeks clarification that does not require amendments): No Charge